Benewake to Unveil 512 Lines Automotive-grade LiDAR AD2 at CES 2023
(January 5, Las Vegas) On January 5, 2023, Benewake displayed new generation 512 lines automotive-grade LiDAR AD2 at the US Consumer Eletronics Show (CES). This is the first exhibition of AD2 LiDAR for the global audience after Benewake's new product and strategy conference "512 era, for the vehicle". Through demonstrating the high-definition vehicle road test on the CES, enabling audiences to experience the real-time perception function, which has attracted many audiences from the automotive fields and has received many accolades.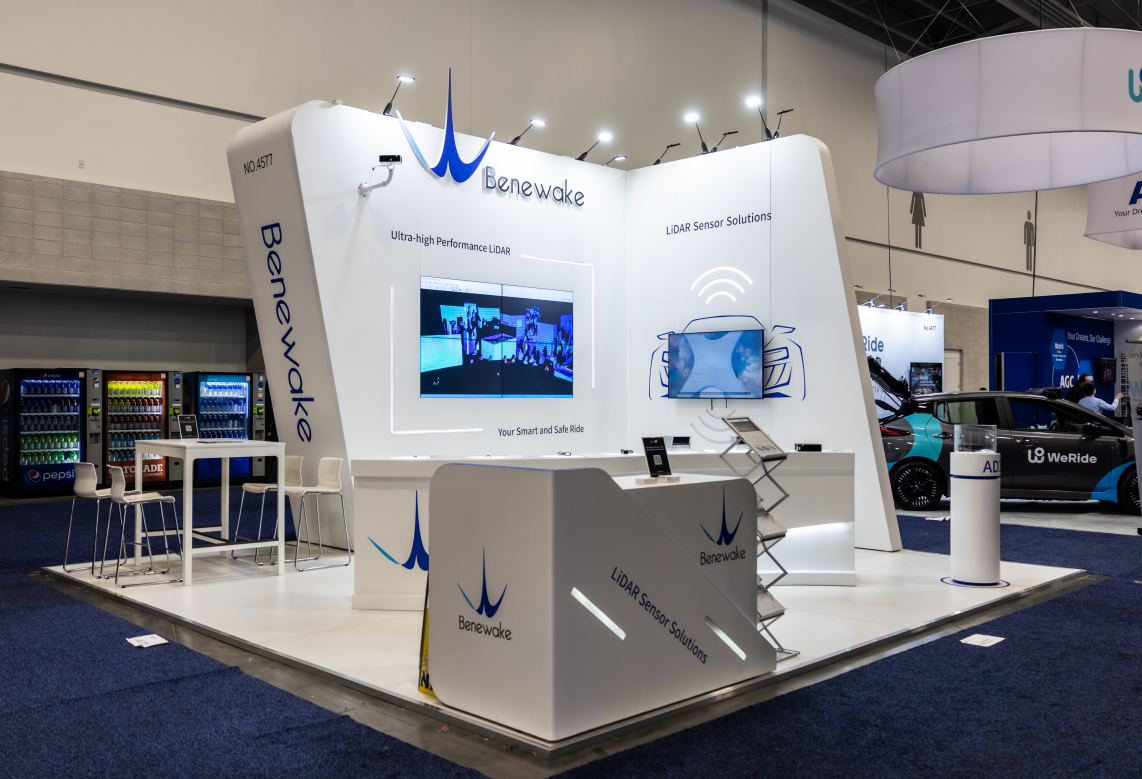 Benewake AD2 at CES 2023
Safety is the most important thing for intelligent driving, and how to allow sufficient observation and response time for intelligent driving users is a critical factor which is considered by most LiDAR companies. According to that, Benewake developed AD2, which is a 512 lines LiDAR, based on its high-performance detection capability to provide safer driving experience.


Dr. Yuan Li, the CEO of Benewake, gaven an example: at 100km/h, the AD2 (512 lines) will identify small targets, like 22cm flat tyre, much earlier than the 128 lines LiDAR. It means an additional 2.1 seconds for the intelligent driving system to make decisions, plan and control. In other words, it can help drivers to slow down in advance, without emergency braking, or enable drivers to switch to another lane continuing driving bypassing obstacles, avoiding accidents.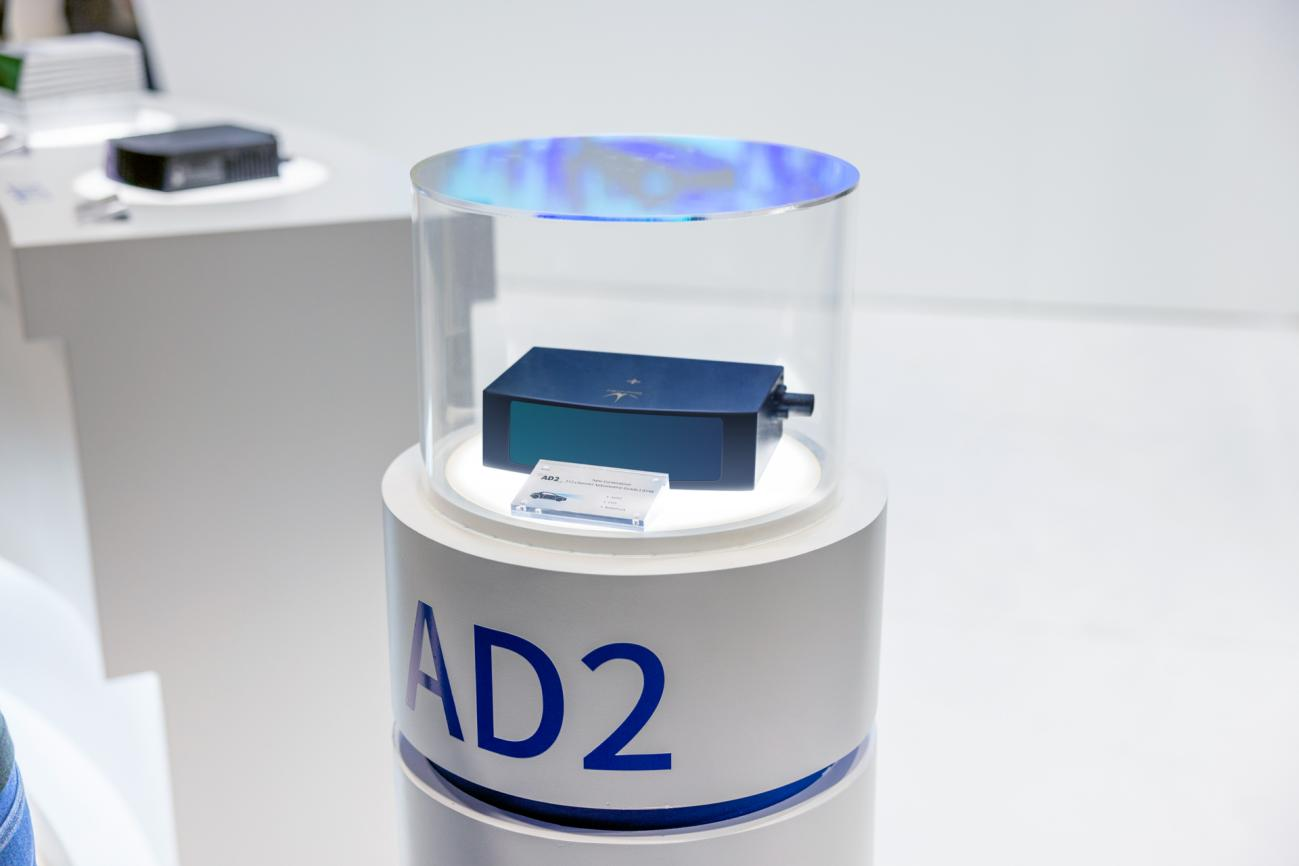 AD2 Automotive-grade LiDAR
As the primary LiDAR product of Benewake, AD2 has 120°x25.6° large field of view (FoV), 10Hz frame rate, and 200m detection range. Additionally, 0.05°x0.05° angular resolution enables AD2 to detect obstacles with 10% reflectivity at 200m, and be able to clearly identify the outline and shape of small targets from up to 200m away. As a result, it significantly improves the recognition rate at software level, and reduces the risk of system misjudegement.


In addition, AD2 unlikes other LiDAR only sets high-resolution detetction in region of interest (ROI) areas. AD2 can detect and identify multiple targets over larger FoV, and has full FoV high-definition detection capabilities with an angular resolution of 0.05°.



Detection advantages of AD2
As the first batch of independent research and development (R&D) LiDAR companies in China, Benewake has participated in CES many times. After three years' preparation and R&D, Benewake exhibited its newest automotive-grade LiDAR AD2 at CES 2023. This demonstrates Benewake has comprehensive upgraded its technology development, mass production delivery, market positioning and corporate strength.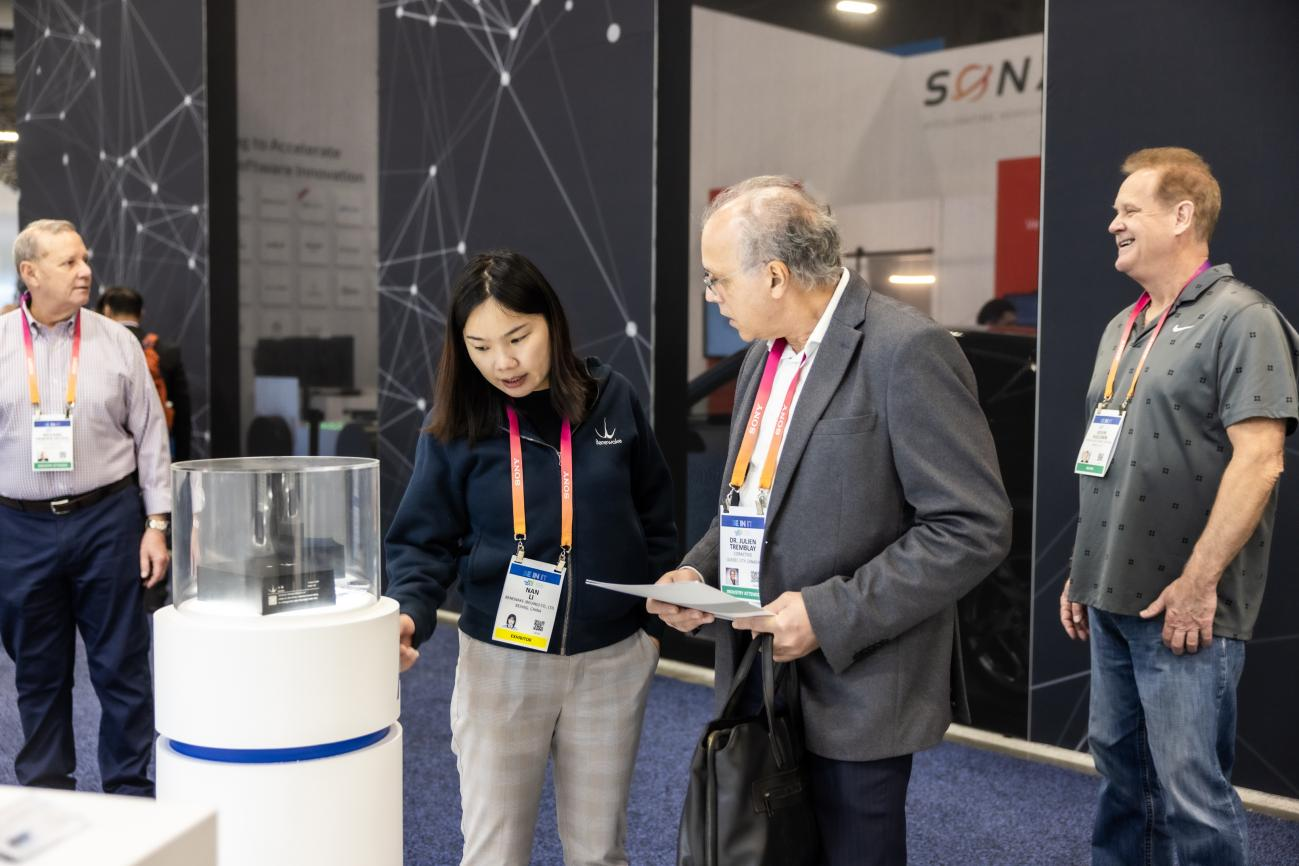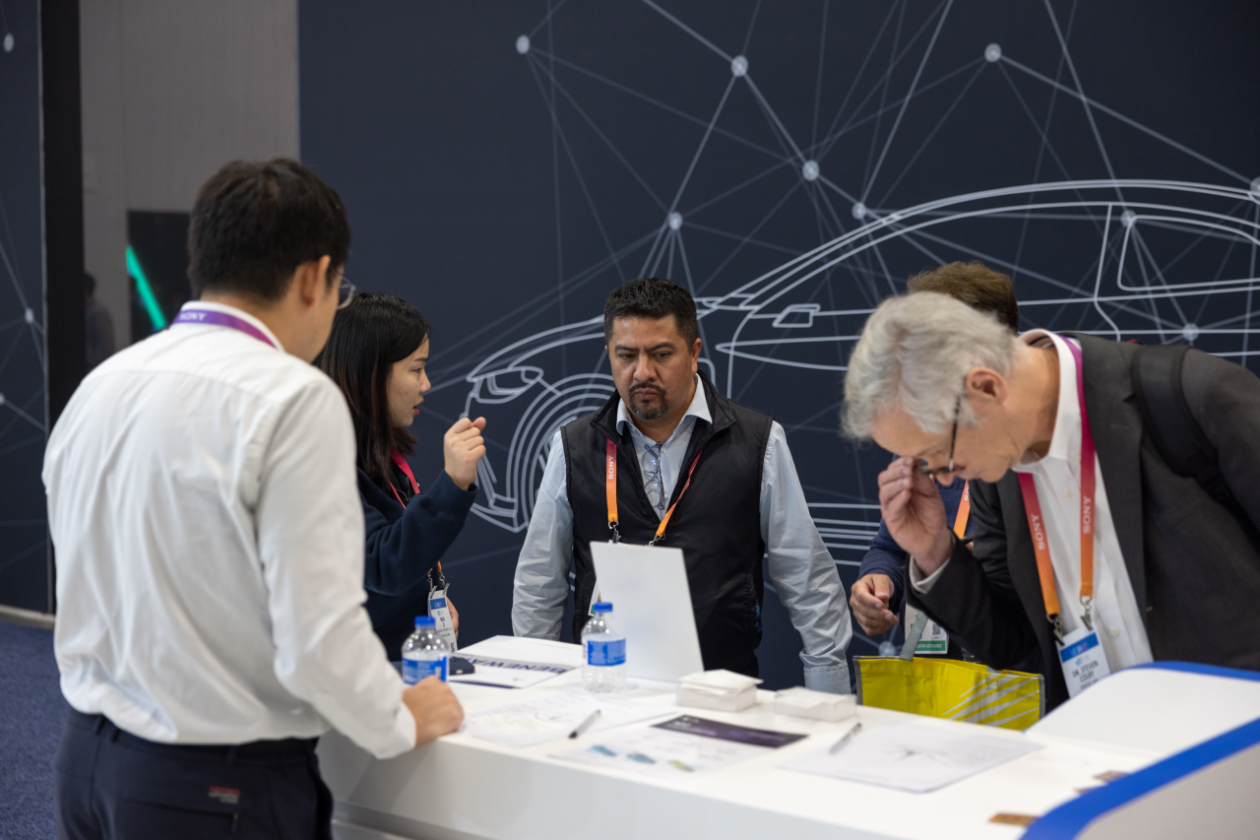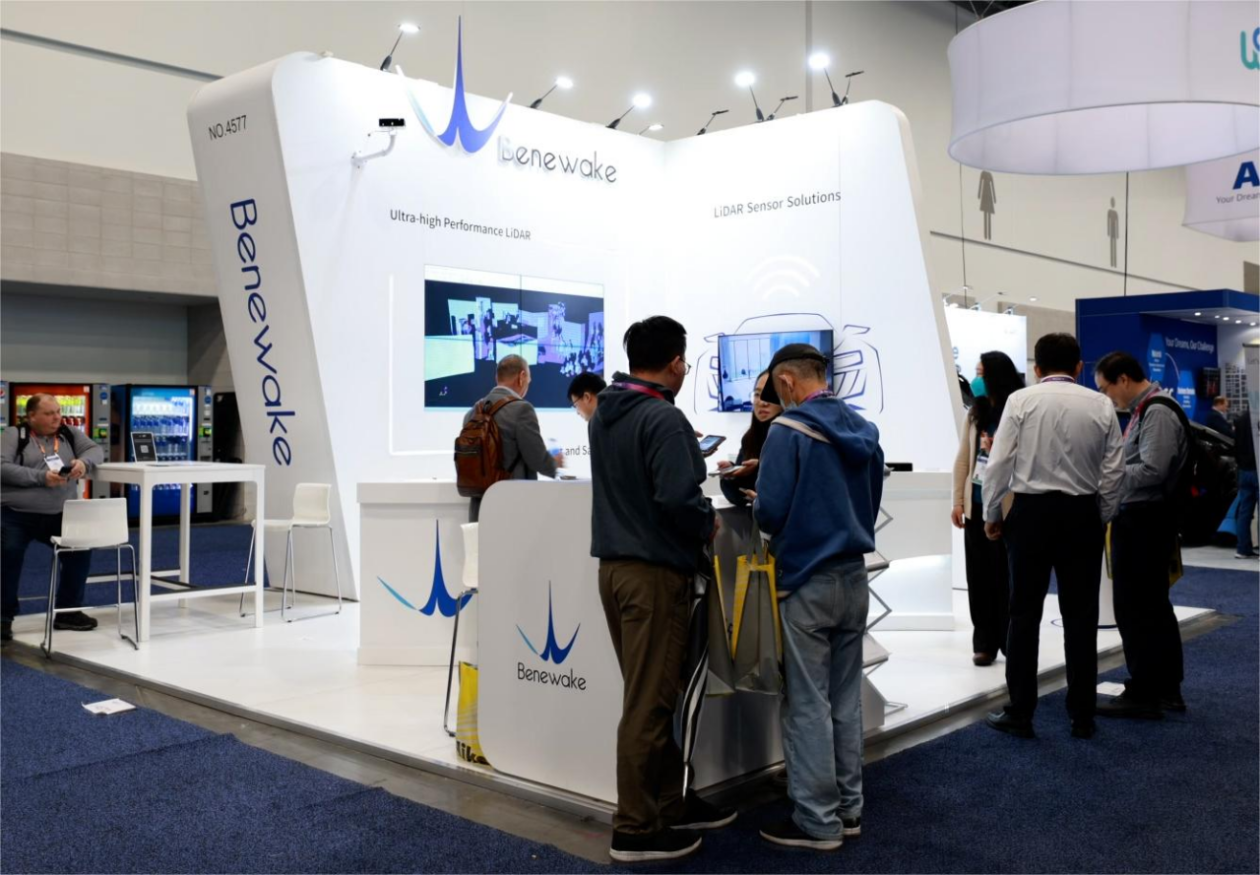 Customer on-site communication diagram
Technical aspects
In terms of technology, AD2 has innovated the scanning and optical tranceiver with laser and detector array technology of the Horn platform. Through 2D high-precision scanning technology, 512 lines high performance can be achieved without large-scale arrayed light sources and receivers. And in terms of potential for subsequent performance upgrades, cost and performance are decoupled, taking into account the high standards of cost and performance required by car companies. Secondly, AD2 adopts the digital motor technology of Benewake Self-Research to accurately control the speed and moving position of Prism and galvanometer, so that the laser radar can evenly distribute the position of each point in space and achieve accurate perception of space. In addition, thanks to the optimization of the architecture and experience in integration, the AD2 is small in size and easier to embed in the car body.
About mass production, through building cooperation with Jabil, a world-renowned manufacturing solution provider, Benewake will achieve mass production delivery of 180,000 units automotive LiDAR by the end of 2023. Dr. Yuan Li, the CEO of Benewake, indicated that mass production is the threshold that must be crossed for LiDAR commercialisation. Jabil has professional manufacturing knowledge, unique technical design capabilities, strong supply-chain control, and rich experience in end-to-end delivery in the manufacturing field. Cooperating with such an experienced partner is one of the key guarantees that Benewake will deliver high-performance automotive-grade LiDAR and enable safe driving in intelligent vehicles.


At CES 2023, Benewake published a vehicle-side road test demonstration, which not only brings audiences a real-time perception experience, but also displays the advantages of Benewake's 512 lines of automotive-grade LiDAR for accurate detection of 3D space.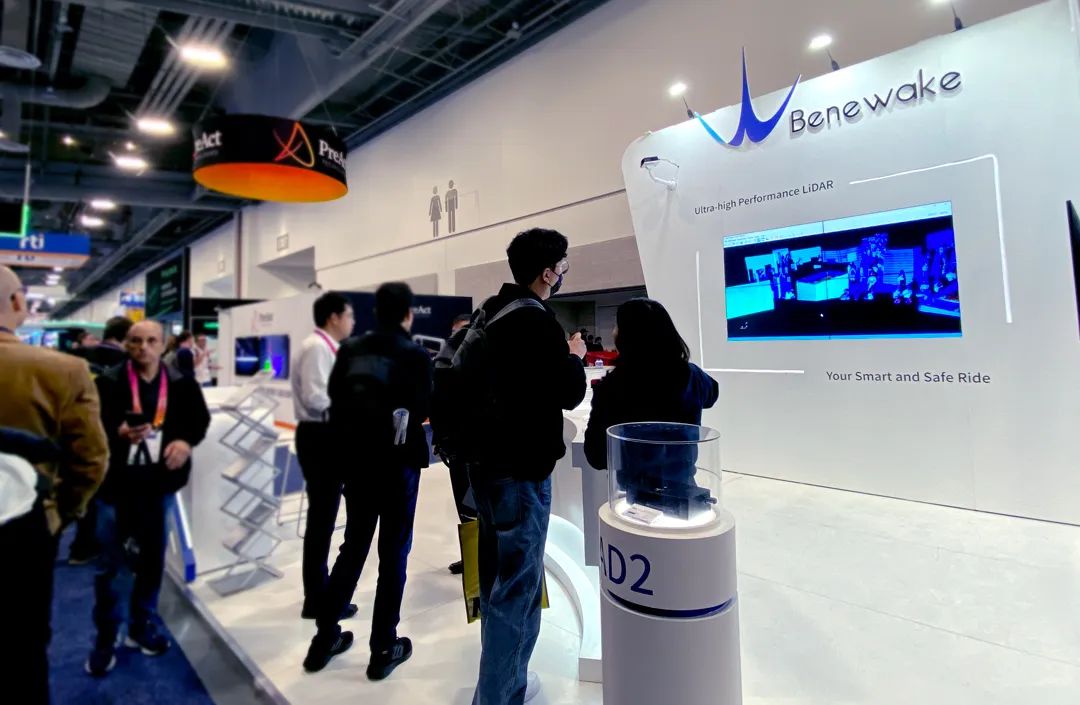 On-site point cloud demonstration effect
In addition to automotive-grade LiDAR AD2, Benewake also exhibited the TF series and Horn series LiDAR products.