Long-range, High-frame-rate LiDAR TF350 Unlocks More Application Scenarios
With the development of industrial intelligence and the continuous improvement of technical requirements, there is an increasing demand for long-range, high-frequency, industrial and consumer-grade LiDAR products in various fields. After undergoing multiple technological tests, ultra-long-range LiDAR TF350 of Benewake TF series has been recognized by the market and customers, and has opened up multiple heavyweight application fields such as industry and transportation!
TF350 is an industrial-grade, ultra-long-range, high-frame-rate LiDAR with a maximum range of 350m. With a high-strength body and an IP67 protection rating, TF350 contains compensation algorithms for strong outdoor lighting environments, making it suitable for various indoor and outdoor applications such as industry, transportation, and security. In addition, it is compatible with multiple communication interfaces and has multiple measurement modes and parameters for customers to choose and configure according to their specific ranging needs. Customers with long-range detection needs and complicated application environments no longer need to worry about the lack of matching products to meet their needs.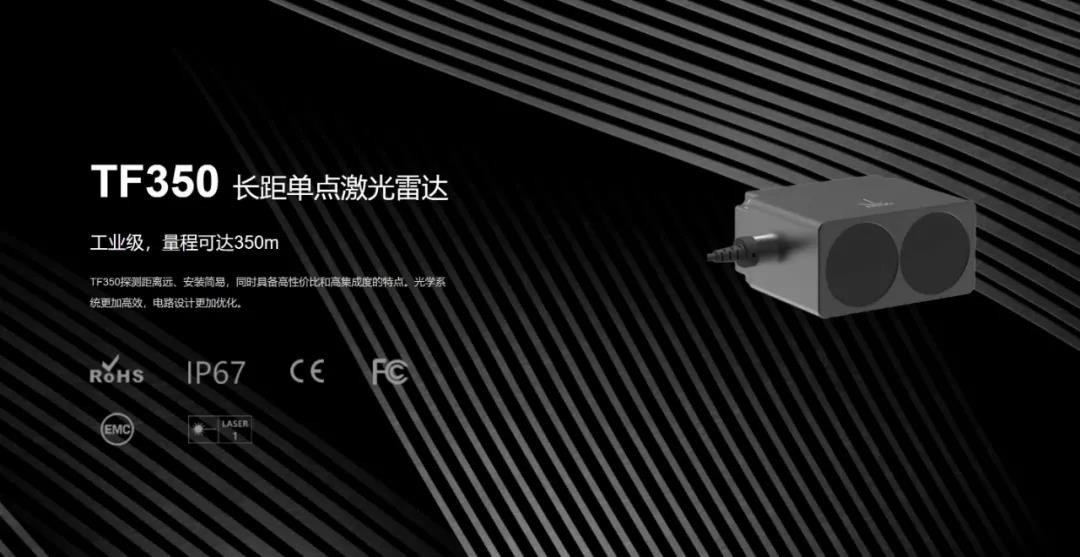 Product features
350m ultra-long detection range
Up to 10KHz detection frame rate
protection rating
Pure solid-state design
Multiple interfaces: UART/CAN/RS232/RS485/Analog (4-20mA)/GPIO
[Transportation Field]
01
Install TF350 above the lane, vertically or obliquely detect vehicles passing through the lane below. With integrated traffic flow detection algorithm, TF350 can quickly realize traffic statistics or control camera capture by outputting changes in voltage when vehicles pass by. Its features of large range and high frame rate can easily cope with high-speed traffic detection. The signal or data processing is simple, making it easy to integrate into the system.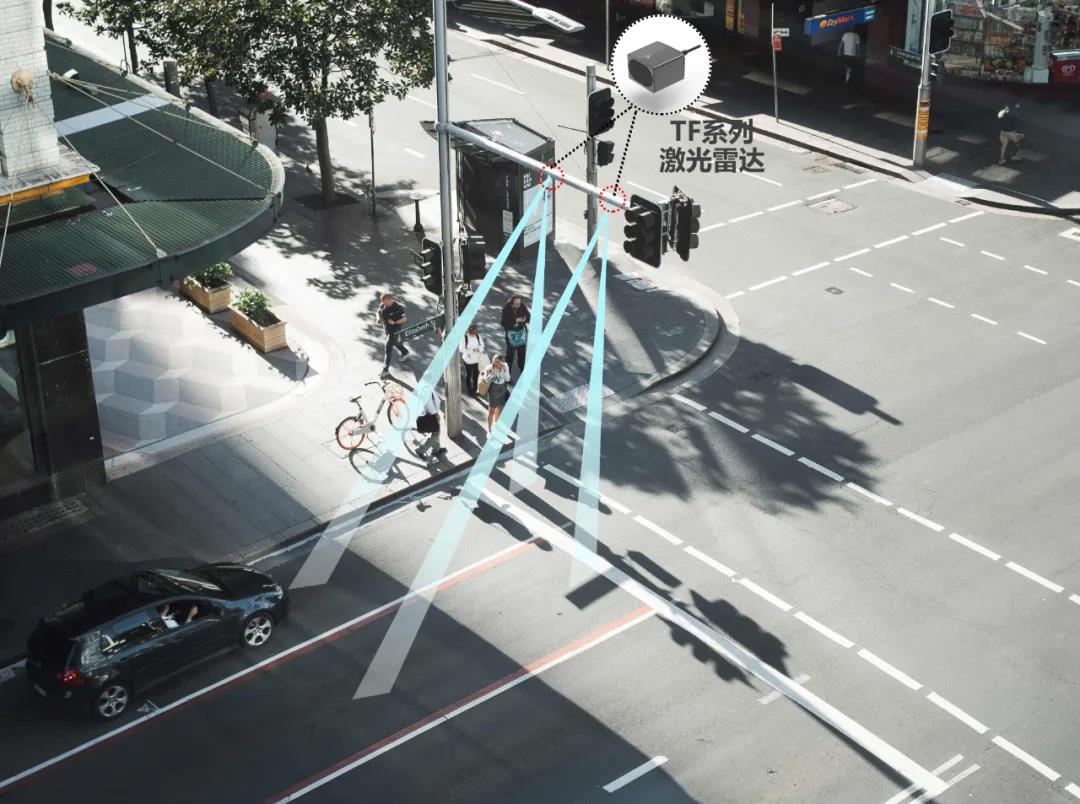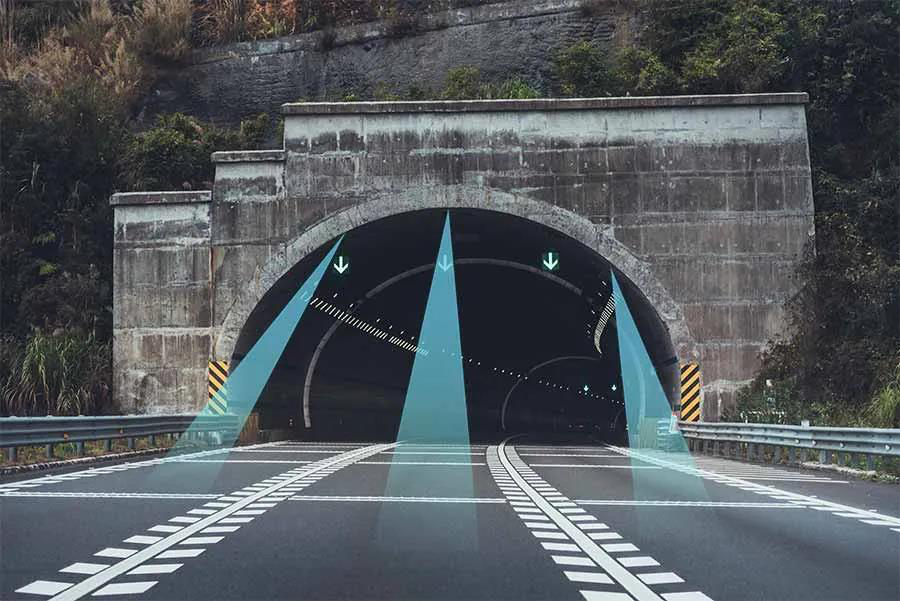 Application advantages:
Long-distance monitoring: 350m ultra-long detection distance, continuous real-time monitoring 24/7;
Ultra-high frame rate: up to 10KHz, no missed detection of all types of high-speed vehicles, high accuracy;
Multiple interfaces: more choices for easy integration;
High protection level, stable performance, long service life;
Multiple measurement modes and parameters for customers to choose and configure independently;
Application scenarios:
Vehicle flow detection, camera triggering, highway and high-speed tunnel road lighting triggering.


02
Install and fix the TF350 on the vehicle's radiator grille or near the license plate to detect the distance between the vehicle and the front vehicle or obstacle in real-time. When the distance between the front vehicle or obstacle is less than the safety distance, the rear-end control system immediately alerts through sound, vibration, lighting, etc. based on the data transmitted by TF350. It can even coordinate with the vehicle's braking system to apply emergency braking and avoid collision accidents, ensuring driving safety.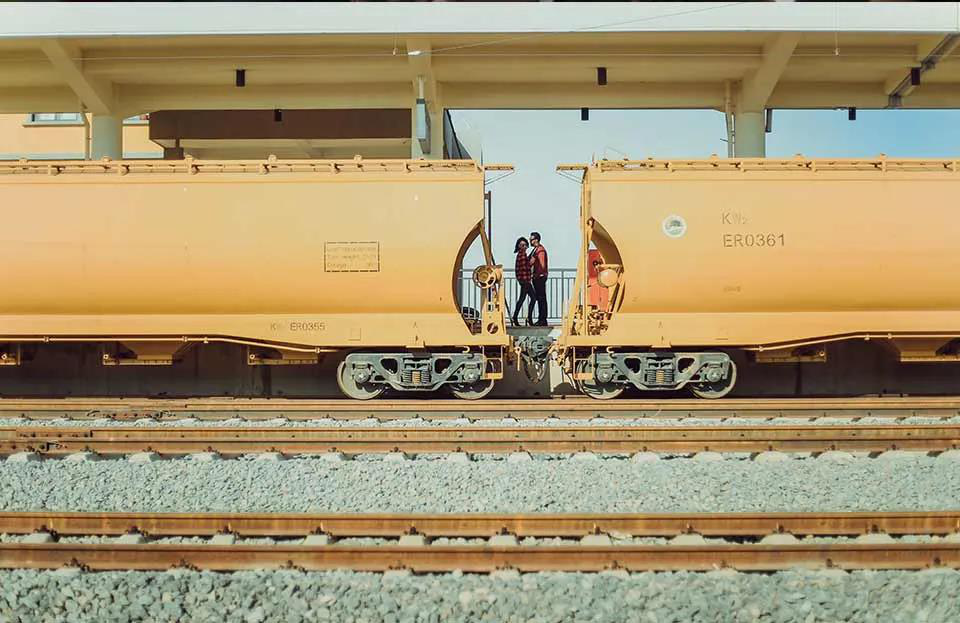 Application Advantages:
Long-distance monitoring: a detection distance of up to 350m, providing real-time monitoring 24/7;
Ultra-high frame rate: up to 10KHz, ensuring no omissions in detection of other vehicles or obstacles;
Multiple interfaces for easy installation and compatibility with various devices;
IP67 protection and solid-state design.


Application Scenarios:
Collision avoidance warning for various vehicles, collision avoidance for trains, and safety towing.


[Perimeter security]

01
With the development of the economy, people's awareness of security is gradually increasing. To solve the problems of property loss and personnel safety caused by intrusion, theft, and damage, the demand for perimeter security in various industries is increasing year by year. Perimeter security can be divided into "tangible" and "intangible" categories. Due to the fact that "tangible" electronic fences cannot report alarms in a timely manner and are easy to be destroyed, they are gradually being replaced by "intangible" perimeter security. As the main force of "intangible" perimeter security, Benewake's long-range single-point laser radar TF350, combined with cameras or alarm devices, can build an intangible electronic fence, which can monitor and locate intruders in real time 24/7 and trigger relevant security measures.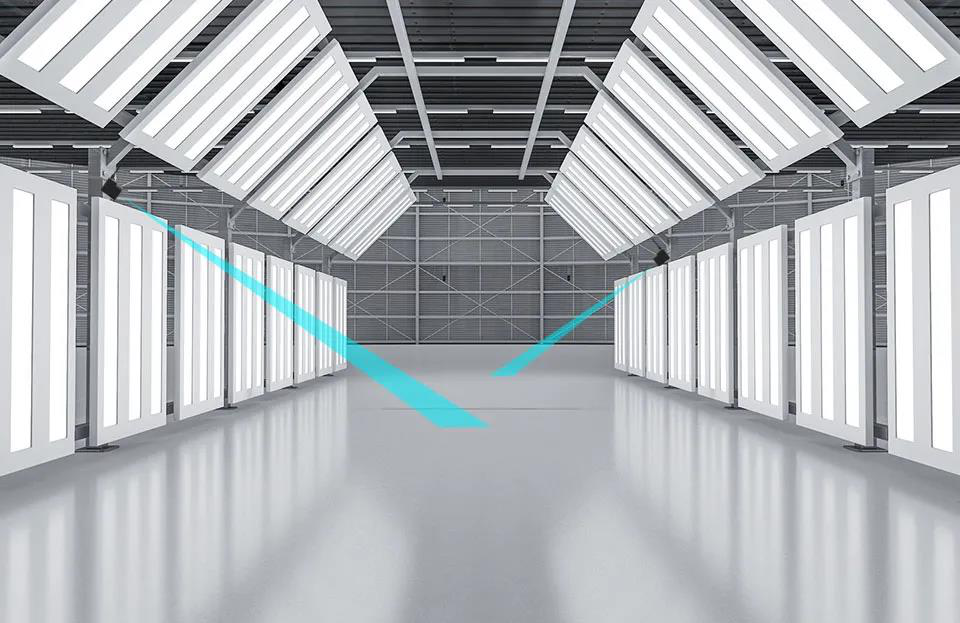 Application Advantages:
Compared with traditional electric sensors, laser sensors have very obvious technical advantages in sensing network applications:
350m ultra-long distance detection to respond to intrusions, real-time monitoring 24/7;
Intrusion positioning: When a threatening intrusion occurs, the system can locate the intrusion point in real time based on the ranging information of the laser radar, making it easier for security personnel to take effective measures in a timely and targeted manner to stop subsequent events;
IP67 high protection level, strong dust-proof and water-proof ability, and strong response to outdoor environments;
Small size, light weight, and very good reliability and stability;
No radiation, no flammable and explosive materials, waterproof, environmentally friendly, etc.
02
Industrial safety is of utmost importance. Benewake long-range LiDAR TF350 has a maximum detection frame rate of 10KHz and can customize the detection range, effectively achieving safe distance detection and triggering alarm systems in various industrial environments to reduce accident rates. Currently, Benewake laser radar has been widely used in various tower crane equipment to achieve safe distance warning. By installing TF350 on the joint plate of the tower crane, it can detect vertically downwards or upwards, and provide real-time feedback on the distance between the hook and the floor or boom to prevent collisions.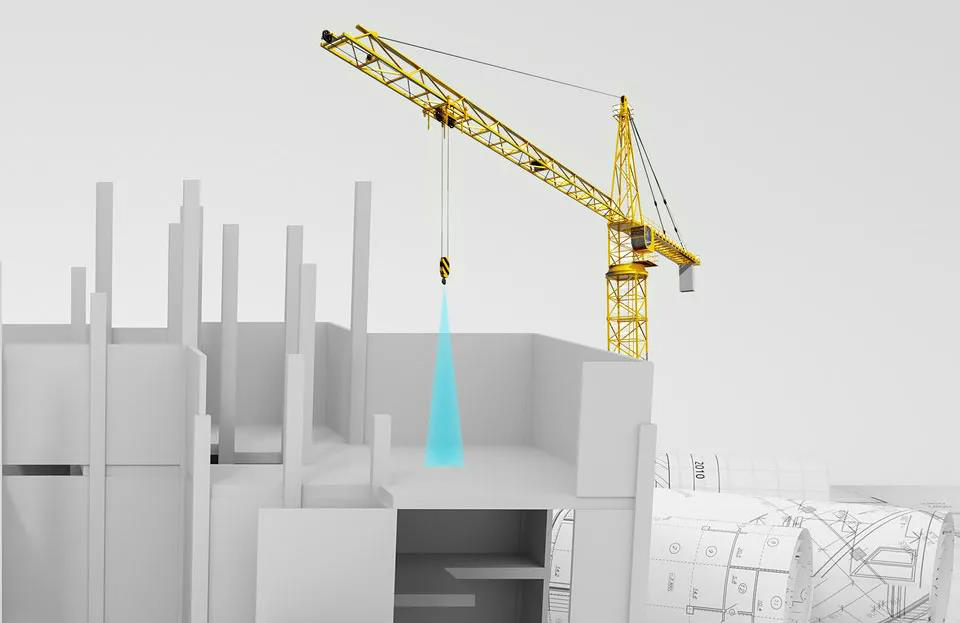 Application advantages:
Long measuring distance, up to 350m;
Fast measuring speed, timely feedback, with a response time as fast as 1m/s;
Accurate and reliable, with a distance error range within 10cm;
Stable distance measurement;
Suitable for various weather conditions;


Application scenarios:
Perimeter security, tower crane safety distance warning, airports, fishing grounds, power plants, nuclear power plants, prisons and other important locations.
TF350, as a role positioning of Benewake TF series long-distance laser radar, fills a large demand gap in industries such as industrial, transportation, and security. With its far detection distance, easy installation, high cost-effectiveness and high integration, TF350 has an ultra-high ranging performance and stable effect in large, long-distance, and industrial demand scenarios.
Of course, the application scenarios are not limited to the transportation and security fields mentioned above. Scenes that match the product parameters and performance can be used. For specific technical consultations, please contact Benewake's related customer service or sales.