Benewake was awarded "China Leading Autotech 50 Company List"
(April 14, 2022, Beijing) As a leading domestic LiDAR enterprise, Benewake was selected once again on the " China Leading Autotech 50 Company List" released by KPMG China, an international accounting firm, thanks to our outstanding performance in the field of autonomous driving.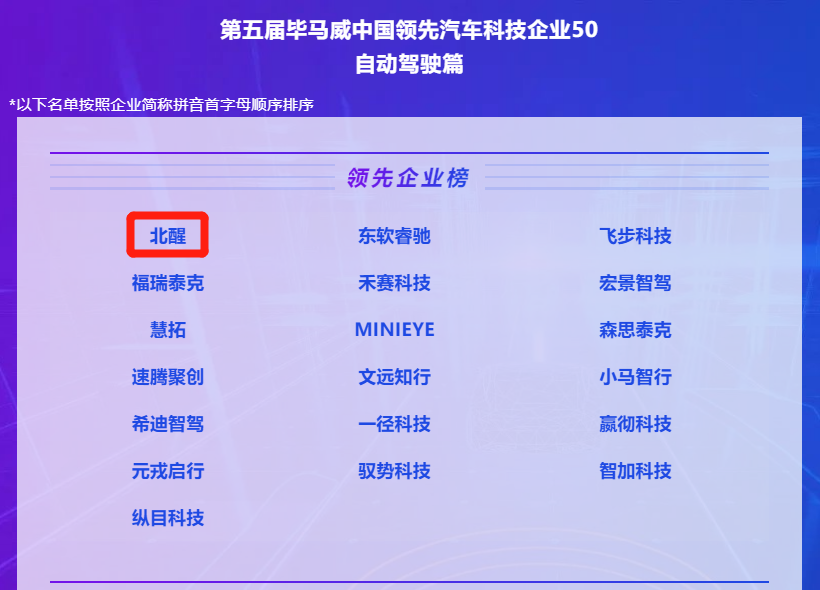 It is reported that KPMG's selection of autotech companies in this year's evaluation mainly focused on four platforms demonstrating the technical capabilities of autotech companies, namely autonomous driving, innovative services, electrification, and intelligent connected vehicles. Autonomous driving was a newly added subfield. KPMG believes that China is striving to become a global leader in the autonomous driving industry and has set up a new "autonomous driving" sub-list to focus on perception hardware, algorithms, and 2B and 2C multi-scene fields, selecting the most vibrant and promising leading enterprises.

Li Yuan, CEO of Benewake, said: "Thanks to KPMG's recognition of our company's technology and products, as a technology enterprise dedicated to LiDAR research and development, production, and sales, Benewake has been deeply rooted in the field of large transportation such as railways, highways, subways, and shipping for many years and has provided high-quality LiDAR solutions. In the future, we will not disappoint the public, rely on strong scientific research strength and experience, and continue to make contributions in the field of intelligent transportation such as autonomous driving."

In addition, Li Yuan said that the company has successfully developed a super-performance LiDAR for autonomous driving and has obtained a fixed-point order for a certain brand of car, which will achieve mass production delivery in 2023.

Li Yuan said that this ultra-high-performance LiDAR, which focuses on the advanced autonomous driving level above L4, will far exceed the low-level LiDAR for autonomous driving in terms of performance, with the highest 512 lines and 3 million points/second. These numbers mean that the point cloud image presented by the LiDAR has reached the "image level," allowing the car to detect an obstacle the size of a rabbit 200 meters away in 0.1 seconds, which will help the car have enough time to avoid risks and make high-speed driving safer. This long-range detection capability is already beyond what a 128-line LiDAR or even a camera can achieve.

Li Yuan said: "In the long run, what we need to consider is how to break through the limits of human perception, that is, we don't rely on LiDAR to achieve human driving ability, but beyond human driving perception. Therefore, Benewake attaches great importance to product performance, especially ultra-high-definition resolution and reliability. Our technology will help vehicles work 24/7 and strive to achieve true unmanned full-automatic driving."

In 2021, Benewake assisted in building the first domestically certified SIL4 level subway train obstacle detection system in the rail transit field and helped install a LiDAR on the front of the first urban rail train in China to create a GOA4 level full-automatic operation system.

With rich technical experience accumulated in the rail transit field, Benewake will endow the new generation of LiDAR with high performance, high safety, and high reliability, providing LiDAR solutions for autonomous driving in all scenarios and serving customers in the fields of Robotaxi, passenger cars, commercial vehicles, and other automotive autonomous driving.

At present, Benewake' LiDAR product matrix covers the fields of autonomous driving, transportation (including rail transit, highways, civil aviation, and shipping), and industrial sensing. In the future, Benewake will focus on the field of autonomous driving vehicles, continuously promote the evolution of the new generation of products, and contribute to intelligent transportation technology.